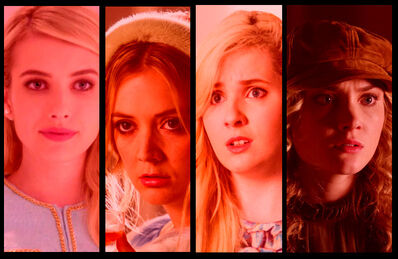 What if Grace hadn't declined Chanel's offer? The newest Chanel is determined to transform the sorority into a sisterhood but will she be distracted by Chanel's materialistic world where only popularity and wealth matters?
The idea had merit, Grace had to admit; going around dressed in furs, acting better than everybody and pretending they were entitled to everything just for showing up? What was better than that? But that wasn't the type of person she was. But then she remembered the corrupt state of the sorority, the unbreakable sisterhood she initially imagined now so fantastical that she may have been dreaming of visiting Narnia, and she started thinking- what better way to take down Kappa Kappa Tau than by infiltrating the tyranny that were the Chanels?
Characters
Main Cast
Recurring Cast
Episodes
Image
Title
Original Airdate
1. "Becoming The Enemy"
December 20th 2015

After some thinking, Grace is suddenly transformed into Chanel #6, although some disagree on her entry. Friendships are ruptured, laughs will be had and somebody will bite the dust.

2. " No One Can Hear You"
TBA

TBA
Ad blocker interference detected!
Wikia is a free-to-use site that makes money from advertising. We have a modified experience for viewers using ad blockers

Wikia is not accessible if you've made further modifications. Remove the custom ad blocker rule(s) and the page will load as expected.